Mountain Running vs Urban Running
Read on to consider why we at Runners Tech Perth think you'll be able to enjoy your runs a whole lot more with a bit of natural scenery.
Getting a satisfying run in as part of your weekly schedule is key for most runners. Many also have a good location in mind for a running session in Perth. Some of the most popular running routes in Perth will take runners through a combination of settings to be found. But have you ever considered the wonders that a trail or mountain running route can add? Or how it will heighten the  overall experience of your next run? If you're looking to change up your running routine for the better, terrain variety never hurts. So pair nature with your favourite fitness activity! Here's what our team at Runners Tech Perth have to say about taking the scenic route.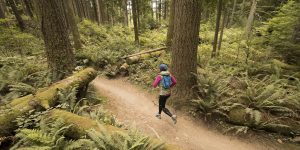 Routine is Good, but Variety is Sometimes Better
Runners in Perth can be considered spoilt for choice. The variety of popular running routes available to you is vast. The majority of these located within reach from the Perth CBD, which mean convenience. Pick your scenery whether you're more keen on being by the river or running along Perth's amazing skyline. The potential backdrops for your route are endless. Urban running trails provide runners with the benefit of flat ground and asphalt. These factors definitely help make regular running a lot more manageable. It is dependent on whether you're looking for the next challenge, or are happy to stick to routine factors for all your runs.
We're here to drawing a comparison between mountain (trail) and urban running routes in Perth. What we can definitely say is that it is always worth trying out a trail route. If you seek a natural running experience unlike any found in the Perth CBD it is not a big leap. Apart from the obvious benefit of a more open landscape to enjoy during your run, consider also how a trail run can take you far away from the urban congestion and noise that runners in Perth may sometimes experience while coursing along their favourite urban running routes. Just think about the fresh air and natural serenity you'll be able to take in! You will definitely find your zen on the trail during the moments of your next trail run. We promise you that Perth urban running trails would most definitely be pale by comparison.
What are the Pros and Cons of These Runs?
Variety is the best part of the overall experience. A mountain or trail run offers so much more to runners in Perth. With natural running terrain, runners can enjoy their running route as more than just an exercise activity. The terrain around mountain and trail routes is hardly ever even. This means that a runner's muscles will have to compensate more during a run. Often the real reason why Perth runners get interested in trail runs is to do with the training benefits. The variety of conditions or uneven terrain will definitely help train both your sense of balance, and natural reactive ability.
However, you may want to take things a step at a time if you're a casual runner in Perth. Unseasoned runners may want to take precautions when it comes to managing the uneven terrain. Without adequate training and preparation, the unevenness leaves inexperienced runners more prone to risk of injury. As most mountain/trail runs are located outside of the Perth CBD, your options for weekly scheduling a little limited. You will have to travel out of the city and Runners in Perth would be left with weekends when it comes to planning out a trail run.
What are Some Mountain or Trail routes within reach of Perth?
No comparison of natural and urban running trails would be complete without a couple of recommendations from our team at Runners Tech Perth. It helps to get as much information about a mountain or trail running route before you take it on as your next runner's challenge. Be sure to look for experiences of these trails that other runners in Perth may have shared online. You never know how that little bit of added preparation can go miles to help you with your next mountain or trail run.
Perth Running
You've got your mind set on wanting to try out a natural running route as part of your next adventure, awesome!  Our team at Runners Tech Perth highly recommend Reabold Hill in Bold Park, and the Cape to Cape track in the southwestern region of WA. The Reabold Hill trail in Bold Park offers hilly running terrain that is suited to both amateur runners and experienced Perth athletes. It's a little closer to the city, and offers a 5km loop (Zamia trail) with stunning elevated views of both the ocean and city to wow you each and every time.
Cape to Cape Running
The Cape to Cape trail is suited to more experienced runners, and is accessible with a highway drive just three hours south of Perth. It begins at Cape Naturaliste Lighthouse, and will take you through a variety of different terrain – from sand dunes, surf breaks and beautiful stretches of beach! There are plenty of signs to guide runners from Perth to the destination. The Cape to Cape is a natural running route that no experienced runner should miss.